Baked Chicken & Wild Mushroom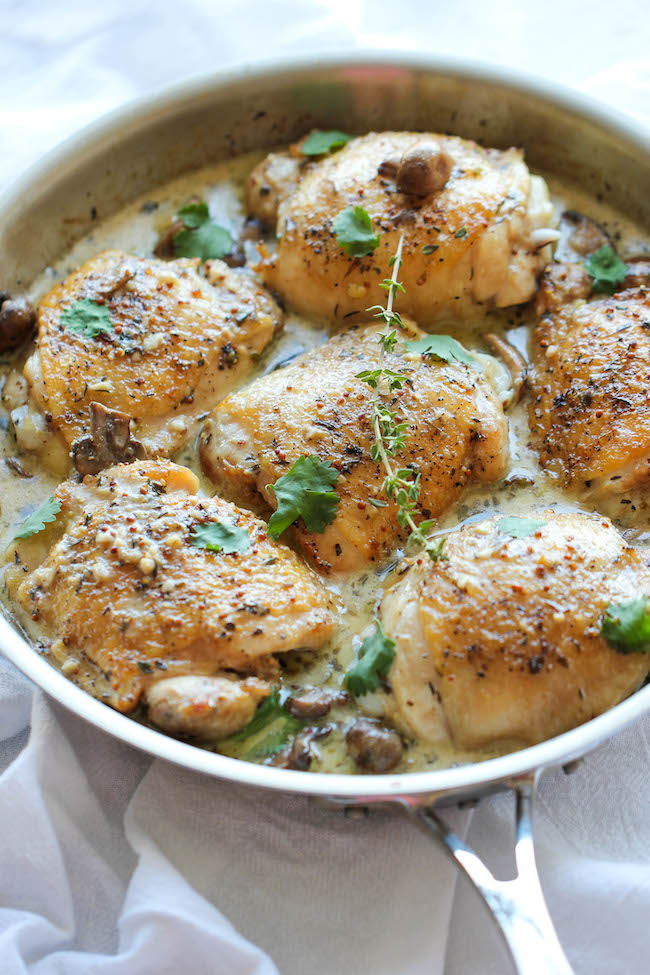 INGREDIENTS:
8 bone-in, skin-on chicken thighs
Kosher salt and freshly ground black pepper, to taste
3 tablespoons unsalted butter, divided
3 cloves garlic, minced
8 ounces cremini mushrooms, halved
1 cup chicken broth
1/2 teaspoon dried thyme
1/2 teaspoon dried oregano
1/2 teaspoon dried basil
1/4 cup heavy cream
1/4 cup freshly grated Parmesan
1 tablespoon whole grain mustard
DIRECTIONS:
Preheat oven to 400 degrees F.
Season chicken thighs with salt and pepper, to taste.
Melt 2 tablespoons butter in a large oven-proof skillet over medium high heat. Add chicken, skin-side down, and sear both sides until golden brown, about 2-3 minutes per side; set aside.
Melt remaining 1 tablespoon butter in the skillet. Add garlic and mushrooms, and cook, stirring occasionally, until tender and browned, about 5-6 minutes; season with salt and pepper, to taste. Stir in chicken broth, thyme, oregano and basil. Return chicken to the skillet.
Place into oven and roast until completely cooked through, reaching an internal temperature of 165 degrees F, about 25-30 minutes. Set aside chicken; reserving juices in the pan.
Stir in heavy cream, Parmesan and mustard. Bring to a boil; reduce heat and simmer until slightly reduced, about 5 minutes.
Serve chicken immediately, topped with mushroom mixture.
The most flavorful chicken topped with the creamiest mushroom sauce. An easy meal for those busy weeknights!