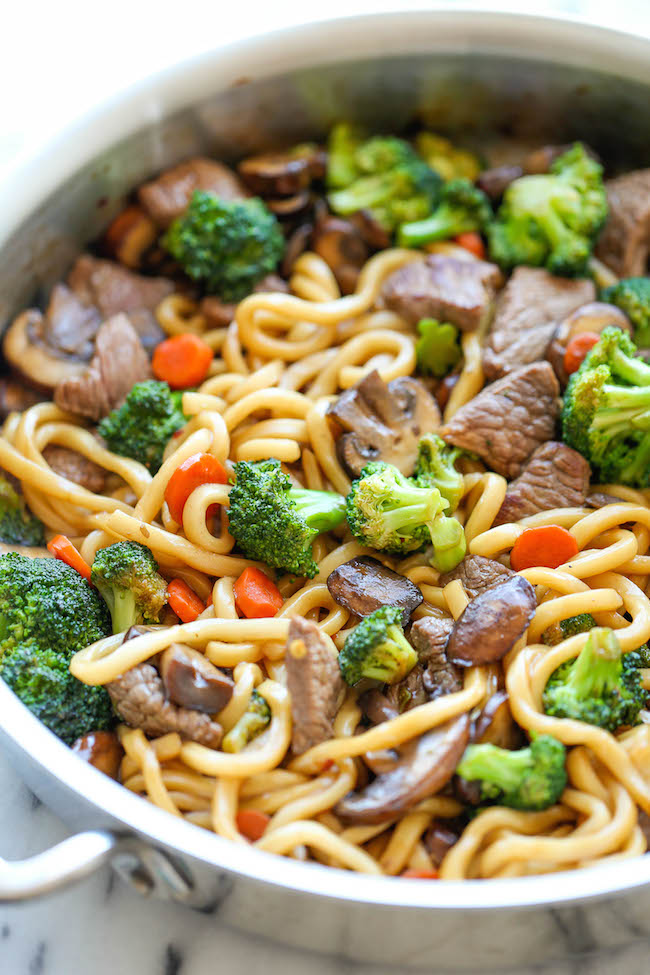 INGREDIENTS:
2 (7-ounce) spaghetti noodles
1 tablespoon olive oil
8 ounces beef top sirloin filet, thinly sliced across the grain
8 ounces mushrooms, sliced
6 ounces broccoli florets
2 carrots, diced
FOR THE SAUCE
1/3 cup soy sauce
3 tablespoons oyster sauce (not needed)
1 tablespoon brown sugar, packed
1 tablespoon freshly grated ginger (not needed)
2 cloves garlic, pressed
1 teaspoon sesame oil
1/4 teaspoon ground black pepper
DIRECTIONS:
In a small bowl, whisk together soy sauce, oyster sauce (not needed), brown sugar, ginger (not needed), garlic, sesame oil, red pepper flake and ground black pepper; set aside.
In a large pot of boiling water, cook spaghetti noodles according to package instructions; drain well.
Heat olive oil in a large skillet over medium high heat. Add beef and cook, flipping once, until browned, about 3-4 minutes; set aside.
Stir in mushrooms, broccoli and carrots to the skillet. Cook, stirring frequently, until tender, about 3-4 minutes. Stir in spaghetti noodles, beef and soy sauce mixture until well combined, about 2-3 minutes.
Serve immediately.
The easiest stir fry ever! And you can add in your favorite veggies, making this to be the perfect clean-out-the-fridge type meal!